Powermaster Manhattan New York
Powermaster Motors Service New York New York
"Powermaster" Roller Door Opener Manhattan NY
One of the things that can make a big difference between a roller steel door in Manhattan that will operate smoothly and safely with no malfunctions and that won't get stuck often, and a roller door that will be the cause for many issues is a good, strong and reliable roller steel door operator. There are many different rollup steel doors operators near Manhattan, such as Liftmaster opener. And with all the respect we have to the Liftmaster products, which we consider as the best manufacture for home garage doors openers near Manhattan, we believe that when it comes to commercial roller steel door Manhattan New York, "Powermaster" motors are the motors you can trust to remain loyal and reliable for many years.
In this post we will go over the features of the commercial gates operators, the malfunctions, troubleshoot and we will try to explain why it is always better to invest in high quality roller doors motors like the roller doors motors made by "Powermaster". If you would like to learn more, you can always visit Powermaster website, and learn about the different commercial gates operators.
Powermaster gate operator installation New York City
Installing electric electric roller steel door is not an easy task. It is a complicated process and this is why it is extremely important for the future owners to determine what they will use the gate for, in order to make it easier to determine which one is the best "Powermaster" operator for their roller door. They should thoroughly explain to the installer what the purpose of that rolling door, so the installer could recommend the most suitable steel door operator for them. The future owners will also have to choose between different types of motors as well of the accessories that come with roller doors near Manhattan NYC. There should be a safety check performed by the installer before the motor is installed so that the installer could know if the gate is suitable for operator installment in the given conditions.
Which "Powermaster" motor is the right one for my roller steel door?
Different roller steel door require different operators. Some roller steel doors, such as the storefront roll down gates near Manhattan require center basic "Powermaster" roller door motor, and some roller doors near Manhattan require heavy duty side motor meant for heavy duty and high volume operated roller gates. It doesn't make sense to put a small 1/4 horse power motor that will be the right operator for a storefront in Queens, which is being used once a day on a heavy duty roller shutter gate near Bronx which is being used more than 100 times a day. Also the size of the rolling door make a big difference. You cannot expect a small motor to operate an industrial rolling door for long. The motor wasn't built for that. Luckily Powermaster offer operators for different gates and for different purposes. The best thing will be to get consultation form experiment roller doors expert near Manhattan.
What are the costs for a new "Powermaster" motor?
As we just explained there are different operators for different purposes. And so for the prices. No one will expect a commercial roller door for a parking lot in NYC Manhattan to cost as much as a residential garage door opener. The purposes of the motor are different. What important is to get the right motor for you. This is not the place to try and save money by installing the cheap easily breaking roller door motors.
You might also mistakenly try and save money by installing a "Powermaster" opener which will be too small for your gate, or not powerful enough, and it is a matter of time before you will need to replace it. You will find that you can replace 3 motors in a period of time that one high quality Powermaster which is the right for your roller door could last.
"Powermaster" Roller Door Opener Troubleshoot
Before we even begin explaining about various malfunctions with "Powermaster" Operators and the ways to deal with them, we would like to start by declaring that a commercial door should be serviced by a qualified repairman. The commercial doors near New York New York can be dangerous, and if they will be serviced by someone who is not qualified for that type of repairs it can end with injuries.
There are several malfunctions your rolling door might experience when the low temperatures near Manhattan strike. You might notice some delay in opening of your rolling door, or even the inability to open at all. In the event that a rolling door is not opening, not closing, or any type of malfunction, hire a local roller door technician Manhattan for the service, and by doing so you will be making sure that the gate will be safe for use once the expert will complete the service.
But even if that it might seem to you like the malfunction is coming from the operator, know that it is not always the reason. Often the malfunction is coming from the gate itself. Metal components will contract as the temperature near Manhattan NYC drops. This is why recommend to use grease which is designed for commercial gates near Manhattan NYC. If you will use the wrong type of grease, the grease will thicken and prevent the rolling door from working properly.
So when it comes to roller steel doors motors near Manhattan the rule is simple: If there is something wrong with gate, STOP, and get in touch with a local gate company to come and help you. Repeated attempts to try and make the gate work when obviously there is something wrong with it can make the motor overheated, and even the strong motors of "Powermaster" can break when they are misuse.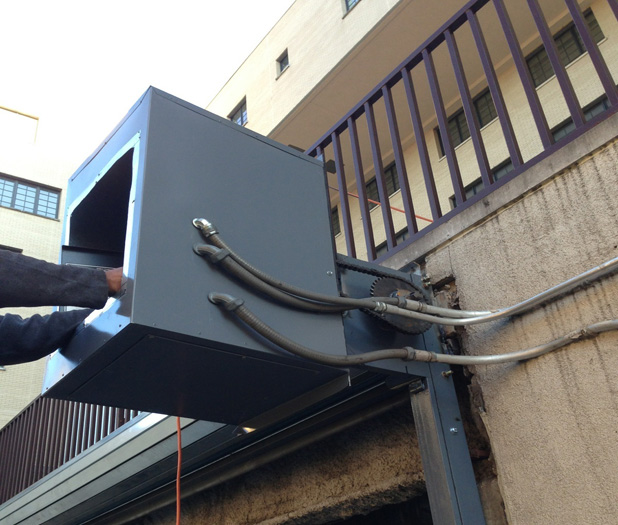 What to do?
First you should check if the electric breaker and the switch are working properly. If not, you might need to get in touch with a licensed electrician near Manhattan NYC to take care of the malfunction. (As we said, even if it looks like it, the malfunction might not come from the "Powermaster" operator).

Check the power outlet to which the motor is plugged. There are tools designed to test electrical power in roller steel door.

The malfunction might be the remote control itself (In case you are opening and closing the roller steel door remotely), maybe it's broken, the battery inside it is dead and need replacement, or maybe the receiver is broken.

The receiver might be broken: Assuming that it is a "Powermaster" Gate motor malfunction, sometime the connection between the remote and the gate is lost. In the case you will need to repair or replace the receiver, or reprogram the remote.

The roller steel door itself is broken: If you only knew how many calls we get for emergency gate repairs near Manhattan, telling us that the motor is burned. And when we arrive we see that the gate itself is the cause for the malfunction (As we said, the "Powermaster" operators are very strong). If the gate is damaged, off tracks, the spring is lose. Or the tracks are damaged, it must be taken care of before testing the motor.
 "Powermaster" keep working when supposed to stop
If your rolling door doesn't stop where it is supposed to, it might be due to the limit switch issue. In that case you will need a roller door expert to come and check the motor. Sometime it is just matter of adjusting the motor to the right settings, but sometime it is more complicated since if the motor did not stop the roller door on time, the gate can keep rolling into itself and get jammed. Like we said, stop trying to operate the gate and get in touch with us for same day "Powermaster" opener repair near Manhattan.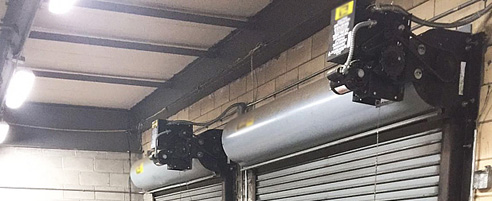 Tips about "Powermaster" gate operator:
Here are some tips and advices that can help troubleshoot a "Powermaster" roller steel door operator. It is written based on years of servicing roiling gates near Manhattan NYC. They are not a replacement for the consolation of a qualified expert. Big Apple Roll up Gates and Doors service all types of roller steel door near Manhattan NYC. It can be storefront roller gate repair, or overhead door service in New York New York, our experts can be there today.
If the roller shutter does not work when it being used manually (Chain system or push up gate) manually. Before turning your gate into an automated gate, you have to make sure that it can operate normally when it is in manual mode. If it shows any signs of irregular working process, if it is too heavy to lift, or if it makes noises, or even if there are damaged parts, these malfunctions will not just disappear when you turn it into automated gate. Take care of the malfunctions before installing a new "Powermaster" Gate operator.

Avoid installing the wrong "Powermaster" operator! Using the wrong equipment. Is a waste of money, and can even be dangerous. Never use the equipment which is not specified by the manufacturer of the rolling door! Trying to save money by using the wrong equipment usually end with spending much more money. When you invest in quality "Powermaster" roller steel door motor you might be investing more money at the moment, but you will be saving a lot of money in the future.

Avoid do it yourself "Powermaster" Operator installation! Be responsible! Don't try to install the gate yourself or by hiring a handyman which is not ready for commercial tasks. If you save some money on not calling an expert for the installation, it may end up in a disaster. There are qualified roller steel door experts near Manhattan who should install your gate and who will take legal risks of the installation. Commercial roller steel door can be dangerous. Misuse of them can lead to serious injuries.
"Powermaster" Accessories: It is really important, as we have stated above, to explain to the installer how and what the rolling door will be used for. This way the installer will be able to provide you with the best solution for opening and closing of your door. Choices you will have are: vehicle detectors, key switch, remote controls, or card access, ground loops and more. There are accessories that you didn't even know exist, such as the MYQ Liftmaster garage opener.
"Powermaster" Gate expert Manhattan
There are many more tips that can be written and share in our post. After all, Big Apple Roll up Gates and Doors has been servicing roller steel door and "Powermaster" openers for many years near Manhattan NYC. But we decided to give only few basic tips. The reason is that "Powermaster" Operators, and roller steel doors can be dangerous, and if someone will try to install a gate operator, "Powermaster" or Liftmaster, he can end with injuries. The roller door operators are installed above ground, and sometime operate a heavy roller door. Doing the wrong thing can lead to serious injuries and can even end with a tragedy. If you need "Powermaster" roller gate operator servicemen near Manhattan NY, get in touch with Big Apple Roll up Gates and Doors today, and we will be there to assist you with any of your steel doors needs. We service commercial, industrial and home roller doors and shutters in New York New York, and we carry tools, components and motors to complete almost every task on first visit to get automated roller door working again as soon as possible.
For overhead doors service Manhattan New York
Call: 347-868-0337